News & Blog
Cool Wrestling Shoes
Posted on November 24, 2012 , by wrestling
No matter the age, wrestlers come to mywrestlingroom.com for cool wrestling shoes and all their wrestling gear. We have a great selection of shoes for hitting the mat from the top brands on the market. The color combinations and styles are the newest available and My Wrestling Room is proud to bring them to you at competitive prices. In the past you may have gotten used to buying a size bigger in wrestling shoes to accommodate the extra width you need, but when you come to My Wresting Room that's no longer an issue. Whether you're looking for youth or men's wrestling shoes or both, we have the sizes you need, even Response GT and Asics Split Wide for wider feet, eliminating the need to size-up.
Get Some Cool Wrestling Shoes For Yourself Today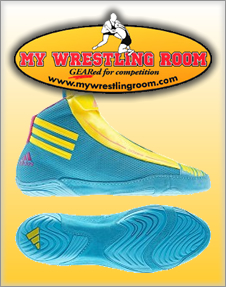 Being a full-service wrestling site, not only do we carry cool wrestling shoes, but we also stock apparel like singlets, warm-ups, t-shirts and practice wear. At mywrestlingroom.com you'll also find other equipment and accessories such as knee pads, headgear, new wrestling shoes, and skin protectant. And you can even get your gear bags at My Wrestling Room, making it a true one-stop shopping experience. We've made it a priority to bring you everything you could possible need for the wrestling season.
If you've never shopped us before, give it a try. Start by browsing our selection of cool wrestling shoes. When you see all of the wrestling products you have access to through My Wrestling Room you're certain to go on and fill all of the items on your season's shopping list. We know you'll be pleased with everything you get from My Wrestling Room and we back all your purchases with a 30 day money back guarantee, allowing for exchanges or refunds. There's no reason to wait any longer. Stock up on wrestling items for the season at mywrestlingroom.com.