News & Blog
Cheap Wrestling Shoes
Posted on September 14, 2012 , by wrestling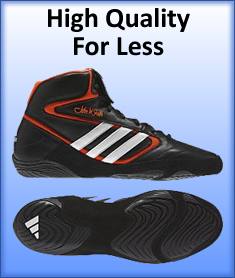 There is no reason to pay more than you have to for wrestling apparel, and wrestling shoes! At mywrestlingroom.com, we supply many varieties of cheap wrestling shoes and clothing. In fact, our prices are the cheapest on the web! Wrestling is the most ancient and storied sport around today. From its prehistoric origins to the modern day, wrestling has and always will hold a special place in the annals of competition. It was one of the most popular events in the original Olympic games. In fact, it was so popular that the Greeks instituted two forms of wrestling in their Olympics: "Pale" and "Pankration". "Pale" was more controlled, and most closely resembles the wrestling that we see today, while "Pankration" had few rules, akin to modern-day MMA.
Find a Pair of Cheap Wrestling Shoes and Join the World's Most Ancient Sport
The sport of wrestling is still an international phenomenon, with tens of thousands of participants. Over 70 countries will send over 300 wrestlers to compete for gold in the 2012 London Olympics, with 19 of those wrestlers coming from the United States. These wrestlers will compete in two styles: freestyle, which is the most popular style in the world, and Greco-Roman, which is descended from the kind used in the ancient Greek Olympics.
Wrestling owes its resilience and success to its simplicity. All a wrestler needs to get started are a pair of cheap wrestling shoes, headgear and a uniform. Countries or cities that lack the facilities to train athletes in other sports can still afford mats to train wrestlers for competition. Many excellent wrestlers come from poor countries or underprivileged areas, making wrestling one of the most truly universal sports. At mywrestlingroom.com, we hope to spread the word about the timeless international phenomenon of wrestling. Our wide selection of cheap wrestling shoes makes it easy for wrestlers to continue on in the tradition of the world's oldest sport.