News & Blog
Big brands- big moves
Posted on April 3, 2012 , by junowebdesign
Here at My Wrestling Room, we aim to stock the best products at the best prices, for those youths and seniors that enjoy the sport of wrestling.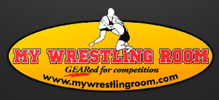 Obviously some of the biggest brands in sports wear, produce specific pieces for wrestling including singlets, warm ups and other wrestling wear as well as shoes.
There are also other companies who are specialists in producing wrestling wear and have possibly been involved in the sport themselves at some point.
My wrestling rooms stocks the following brands of wrestling wear, shoes and equipment; Adidas, Asics, Matman, Brute, Cliff Keen, Kennedy, Shock Doctor and Championship Productions.
If you're knowledgeable about the wrestling world you'll realize the merits of all of these brands.
Matman, Cliff Keen, Kennedy and Brute are wrestling specialists, they have been set up from wrestlers having experience in the sports world and searching for products that meet their requirements.
Cliff Keen have been producing sports wear for wrestling, not just the wrestlers themselves but officials and coaches since way back in 1925.
Keen realize that it's not just about wearing the garments, but starting with the mind and creating pieces that make wrestlers feel good and inspire them to perform to their best.
My Wrestling Room is dedicated to providing the best range of high quality wrestling gear for High School, College and University wrestlers and their teams.
You'll find the best array of state sports wear and for those teams with their own logos and colors, you can have your own singlets and warm ups, laser printed or sewn with logos.
It is all going on right here. If you love the sport of wrestling as much as we do, visit our store and save yourself some dollars with our incredible range of wrestling accessories. We also see new stock every month!
My Wrestling Room