News & Blog
Asic Wrestling Shoes
Posted on August 20, 2012 , by wrestling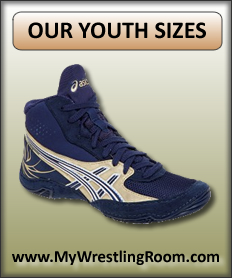 Asic wrestling shoes are renowned for their practical design, durability, and style. Asic is one of the most popular brands of wrestling shoes in the world. Although designed for the highest levels of competition, these shoes are affordable enough to have found their way into wrestling rooms across the globe. Wrestlers of every level, from beginners just learning the basics to Olympic gold medalists, choose Asic for their wrestling footwear needs. We offers a wide array of asic shoes, including the latest styles of the popular Omniflex, Dan Gable Ultimate, Aggressor, and Split Second shoes.
No Secret Why Asic Wrestling Shoes are So Popular
Since 1950, Asic has produced high quality athletic footwear for any occasion. Given their sturdiness and practicality, it is little wonder that Asic has won over the hearts of athletes and shoe lovers worldwide. Asic has produced wrestling shoes since 1958, and has since become a market leader. Durability has a very important part of that success. Asic produces long-lasting wrestling shoes that stand up to the constant scuffing incurred during the course of practices and matches. These shoes are also thoughtfully designed and tested by the likes of wrestling legends Dan Gable and Cael Sanderson, and have breathable exteriors and treads that grip the mat in just the right way so as to give a wrestler the maximum possible advantage.
We carry Asic wrestling shoes in many colors and styles. By carrying everything from the classic Dan Gable Ultimate and Split Second styles to the newer Cael and Aggressor shoes, we aim to suit the needs of any wrestler, beginner or veteran. We also offer Asic shoes in many different price categories. Whatever your wrestling style or level, we have an Asic shoe that suits your needs. Head to mywrestlingroom.com now to explore our selection. Start your wrestling journey today!