News & Blog
Adidas Wrestling Shoes
Posted on August 23, 2012 , by wrestling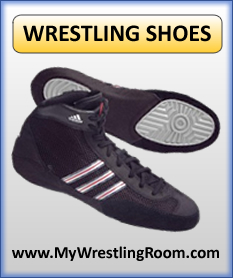 Adidas, deservedly a household name among makers of quality footwear, makes top-notch wrestling shoes that are practical and affordable. Adidas wrestling shoes are stylish, breathable, and tough. Wrestlers who choose Adidas enjoy their simple, practical design. The simplicity of styles such as Response and Combat Speed III allow them to be made, and sold, more cheaply than other brands – but don't confuse low prices with low quality, as these styles are sometimes worn by wrestlers at the highest levels of competition! Higher-end Adidas shoes, such as the AdiSTAR and AdiZERO, are aimed at advanced wrestlers looking to get the most traction, breathability, and support from their shoes. The middle ground is held by the timeless Mat Wizards, which strike a unique balance with a simple design and advanced tread technology.
What makes Adidas wrestling shoes so popular?
Simply put, Adidas wrestling shoes are built to be tough. They made out of rugged material that usually last several seasons of wear. The rubber of the soles are especially thick, making them ideal for youth wrestlers who tend to put more stress on the bottoms of shoes. The downside of this is that Adidas lack the flexibility of other styles, but this has not deterred generations of wrestlers from opting for the sturdy reliability of Adidas.
If you are in the market for Adidas shoes, keep in mind that mywrestlingroom.com offers Adidas in many colors and styles shoes at competitive prices. In fact, our prices are lower than those on the official Adidas website, and our selection is larger! There really is no better place to buy wrestling shoes on the web. Whether you are a beginner wrestler looking for something simple, a veteran looking for the latest shoe technology, or an aesthete looking for a sleek design, Adidas has you covered. And nobody has you covered for Adidas wrestling shoes better than mywrestlingroom.com.